With Potatoes and Broccolini
Sheet Pan Salmon With Potatoes and Broccolini Recipe | Real Simple
Ingredients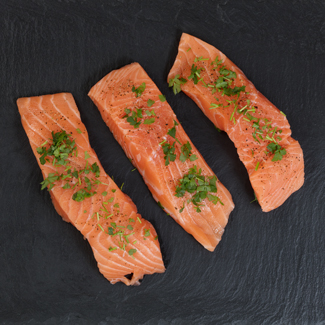 1 pound small Yukon Gold potatoes, halved
½ cup olive oil, divided
1 ¼ teaspoons kosher salt, divided
¾ teaspoon black pepper, divided
4 6-oz. salmon fillets
1 pound Broccolini, trimmed
2 tablespoons fresh lemon juice (from 1 lemon)
1 shallot, finely chopped
1 ½ teaspoons Dijon mustard
Directions
Preheat oven to 450°F. Toss potatoes with 2 tablespoons oil, ½ teaspoon salt, and ¼ teaspoon pepper on a rimmed baking sheet. Roast for 15 minutes.
Meanwhile, rub salmon with 1 tablespoon oil and season with ½ teaspoon each salt and pepper. Add salmon to sheet and roast until potatoes are tender, 5 more minutes.
Turn potatoes, add Broccolini to sheet, and drizzle with 1 tablespoon oil. Heat broiler and broil all until salmon and Broccolini are browned, 2 to 3 minutes.
Whisk lemon juice, shallot, and mustard with remaining ¼ cup oil and ¼ teaspoon salt and drizzle over salmon and vegetables.